A new permanent colouring trend: with its cream composition, Aroma in Color guarantees intense colour results and gentle action on the hair.
Quick View
Permanent colouring in a conditioning cream: the ideal choice for perfect white hair coverage. It provides incredible shine and intense yet natural colours. The formula is enriched with Keratin, Aloe Vera, Honey and Silk Protein, to repair and enrich the fibres for radiant hair.
Professional use
100 ml tube
Mixing ratio 1:1
Processing time: 20/40 minutes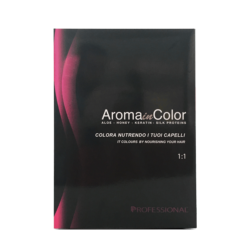 Quick View
Intense and bright colouring, for an enviable gloss effect: the 87 shades in the Aroma in Color chart provide hair stylists with a range of unique colouring options to meet all their customers' needs, while the colouring service itself ensures perfect white hair coverage and long lasting and intense colours.