Treatment for weak and brittle hair to cleanse and revive stressed hair fibres with a unique invigorating action.
Quick View
Easy Energy Shampoo prevents hair loss in weak and brittle hair. It gently cleanses and stimulates microcirculation, thanks to the vitamin complex with which the formula is enriched. Strengthens the structure of the hair and slows hair loss. Paraben-free.
Professional use
300 ml bottle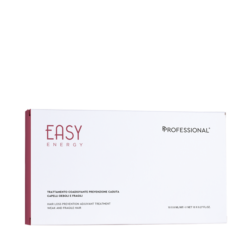 Quick View
Easy Energy Lotion is a treatment offered in single-dose vials, ideal for hair suffering from premature loss. Thanks to its combination of active ingredients and use of a vitamin complex, the lotion improves microcirculation and stimulates the activity of the hair bulb.
Professional use
Box of 10 8 ml single-dose vials
Quick View
Weak and brittle hair is revitalised with the Easy Energy Kit. The shampoo, lotion and scalp massager all to help prevent hair loss through a combination of active ingredients that improve microcirculation and make the hair stronger and healthier.
The Kit contains a 300 ml bottle of Hair Loss Prevention Shampoo, a box of 10 x 8 ml single-use vials, and a scalp massager to promote hair growth.